PERSONALIZED - RED CHRISTMAS DOOR - NEW HOME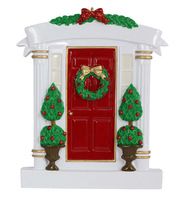 PERSONALIZED - RED CHRISTMAS DOOR - NEW HOME
RED CHRISTMAS DOOR
BEAUTIFULLY DECORATED DOORWAY!
This inviting doorway will remind you of holiday time in your home with family & Friends.
A wonderful gift for the new homeowners! Pair this keepsake with your housewarming gift for an extra-special touch.
Perfect Place Card - Your guests will feel extra special at the table with this personal touch!
PERSONALIZATION SUGGESTION:
Our New Home on top - Family Name & Year on bottom
For Place Card - Christmas 2020 on top - Family Name or Individual Name/s on the bottom
Poly Resin - 3 3/4" x 4"


Reviews