PERSONALIZED - MANICURIST - NAILS BY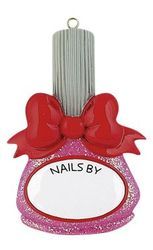 PERSONALIZED - MANICURIST - NAILS BY
NAILS - MANICURIST
A lovely keepsake for your manicurist. Pair this with your holiday gift for an extra special touch!
Your diva will love this! Pair it with polish for a perfect gift.
Please note - Pre-printed with Nails by.
PERSONALZIATION SUGGESTION:
Name & Year
Poly Resin - approx. 3" x 2 3/4"
Reviews