PERSONALIZED - LUCKY IRISH LEPRECHAUN - IRELAND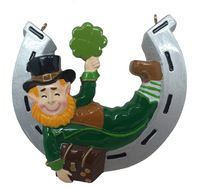 PERSONALIZED - LUCKY IRISH LEPRECHAUN - IRELAND
LUCKY IRISH LEPRECHAUN
This mischief-maker from Irish folklore is a perfect gift for anyone that believes in his magical powers. This busy fairy spends time making and mending shoes and protecting his pot of gold. Complete with a horseshoe, shamrock, and box of gold, this keepsake will keep you looking for the pot of gold at the end of the rainbow.
Know any bingo players? The perfect gift, they love good luck charms!
PERSONALIZATION SUGGESTION:
Family Name & Year
Name & Year for that special person looking for the pot of gold!
Poly Resin - approx. 3 3/4" x 4"


Reviews