PERSONALIZED - HOCKEY STAR - HOCKEY PLAYER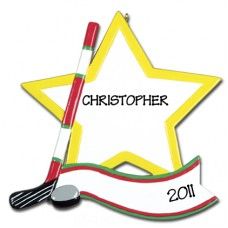 PERSONALIZED - HOCKEY STAR - HOCKEY PLAYER
HOCKEY STAR

YOUR FAVORITE HOCKEY STAR OR FAN IS SURE TO LOVE THIS SIMPLE KEEPSAKE ORNAMENT!
SHOWCASE YOUR HOCKEY STAR'S TALENT & DEDICATION TO THIS EXCITING FAST-PACED SPORT! THEY ARE SURE TO BE PROUD TO DISPLAY THIS KEEPSAKE YEAR AFTER YEAR ON THE TREE OR IN A PROMINENT PLACE YEAR ROUND! COUPLE THIS ORNAMENT WITH A SPECIAL GIFT FOR THE COACH OR YOUR #1 FAN WITH TICKETS TO A GAME WITH THEIR FAVORITE TEAM! YOU'RE SURE TO SCORE WITH THIS PERSONALIZED GIFT.
PERSONALIZATION SUGGESTION:
Name, Player #, Team Name & Year
#1 Coach, Team Name, & Year
#1 Fan, Favorite Team Name, & Year
Poly Resin - approx. 3 3/4" x 3 3/4"


Reviews