PERSONALIZED - BASKETBALL - BASKETBALL PLAYER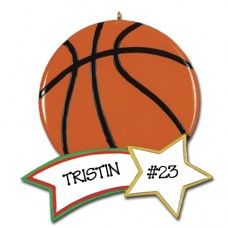 PERSONALIZED - BASKETBALL - BASKETBALL PLAYER
BASKETBALL
PLAYER, FAN? THIS EXCITING SPORT IS WELL REPRESENTED WITH A SIMPLE KEEPSAKE!
FROM YOUTH LEAGUE TO VARSITY & BEYOND THIS PERSONALIZED ORNAMENT WILL BE CHERISHED FOR YEARS! COUPLE THIS WITH A GIFT CARD FOR THE COACH & SEND A SPECIAL MESSAGE, YOU'RE THE BEST!  HAVE A FAN OF PRO BALL OR MARCH MADNESS ON YOUR GIFT LIST? COUPLE THIS KEEPSAKE WITH TICKETS FOR AN EXTRA SPECIAL GIFT! THAT'S A SURE "SLAM DUNK"!
PERSONALIZATION SUGGESTION:
Name & Year or Player #
#1 Coach, Team Name & Year
#1 Fan, Name of Favorite Team & Year
Poly Resin - approx. 3" x 3"




Reviews